Event
Echo Town
November 1, 2018
7:30 pm
GMT
The Joiners ,
141 St Mary's Street, Southampton
All Ages
Echo Town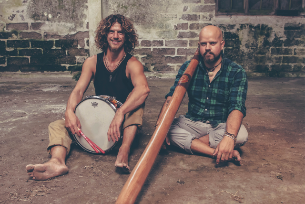 UK South West based band Echo Town consists of free spirited brothers Ric and Rob Harrison. Recognised for their vibrant and energetic performances, contemporary freedom songs and use of multi instruments such as lap-slide guitar, djembe, didgeridoo and harmonica. The audience are often surprised to find such a full sound emanates from only two musicians.
Originally playing music of the heavy rock genre in their earlier years, the Leeds born duo moved on to develop a more harmonious and spiritual approach to music in the past five years as they creatively matured and grew into the upbeat band Echo Town we know them as today. They relocated to Cornwall in early 2015 after completing a mini tour late summer 2014. After they received an overwhelmingly positive response from the South West music scene they opted for the vibrant and contrasting lifestyle change of the South.
"… As if John Butler's lapsteel, Xavier Rudd's social commentary and Jack Johnson's catchy pop ideals have all been fused by the hands of two British songwriters." Richard Cadence (egigs.co.uk)
"…One of the finest up and coming South West bands." – The Mojo Hobo Agency
"… Not surprisingly a good festival band…" – Alan Raw BBC Introducing West Yorkshire
"They blast out a goodtime, uplifting and contemporary view of modern life and it is easy to hear why the duo are often an immediate hit when performing live. Highly promising." – Keith Ames (The Musician Magazine)